PSHRE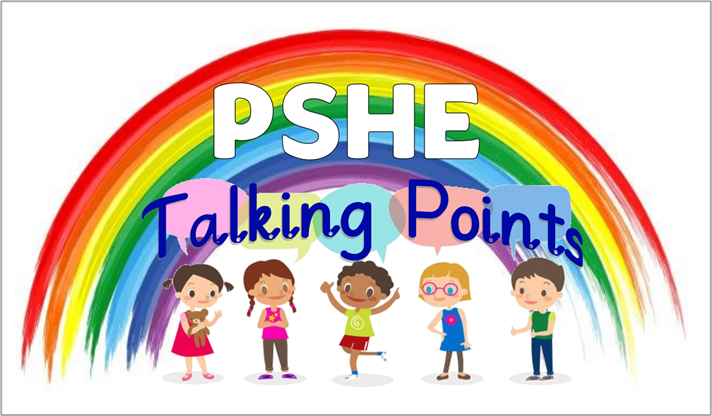 INTENT
Our PSHE curriculum is a tool to ensure that our next generation is educated and supported to not only celebrate diversity but protect themselves and others against discrimination, inequality, and racism, creating a fair and just society.
We continuously strive for new ways to holistically interweave equality and diversity throughout our daily practices and Talking Points serves as a driving force for such values.
Through the promotion of oracy and early language development, awareness of locality, the inclusion of protected characteristics and the positive British values it instils, Talking Points and its teachings helps pupils develop a sense of aspirations and ambitions for their future world.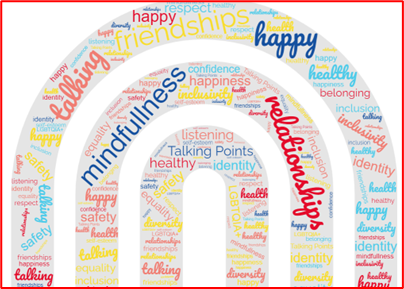 IMPLEMENTATION
The Talking Points scheme of work uses picture books as a starting point to get all pupils talking about their own and other's health, wellbeing, emotions, relationships, current local and global issues and protected characteristics.

The scheme is aimed at being flexible and can constantly be updated with new books and schemes to reflect the changing emphasis in education e.g. the importance of understanding protected characteristics.

Staff promote a safe environment in which pupils feel comfortable to discuss trickier topics through the use of storytelling.
Due to the repetitive, visual nature of the scheme, its Talking Points and strands, pupils have the opportunity to revisit key learning points both within and across year groups and key stages from EYFS through to Year 6 ensuring key knowledge is embedded, remembered and applied.
The use of choice activities ensures each session offers an activity for all learners including those with special educational needs, therefore we ensure that the learning is appropriate and accessible to all learners.
The scheme of work aims to prepare and help pupils navigate their emotions, relationships, and sense of self both within school situation and beyond.
By the end of their primary education, pupils will have learnt about caring friendships, respectful relationships, online relationships and being safe. Talking points covers these areas each year increasing in complexity and reinforcing previous learning.
Book Information Parent Guides for each year group can be found at the bottom of this page.
IMPACT
Children talk with confidence about the key areas of PSHE.
They are able to form strong and positive relationships and realise this may take resilience and perseverance.
Children understand the importance of self-respect and self-worth and can demonstrate key personal attributes such as honesty, integrity, courage, humility, kindness, generosity, trustworthiness and a sense of justice.
Children understand how to be positive citizens in their locality.
Assessment is done through pre and post-teaches, questions about the text, challenge by choice activities and a challenge statement. Feedback is given through monitoring reviews, verbal feedback.
Display areas around school both link to and celebrate the common themes of Talking Points, protected characteristics, British Values and diversity.
PSHE also provides some inspiration for our assemblies through diversity, protected characteristics, mental wellbeing and British Values
Some Talking Points books have been used by staff in ELSA sessions to help with sensitive issues affecting children at home.
We held our First Talking Point Café for parents, the children's forum worked with staff to create displays of all the Talking Point Books and the Floor Books that each of the classes create to record their learning and discussions. It was a great opportunity for parents to come and see for themselves the themes and discussions we have in different year groups.