phonics
INTENT
Phonics is making connections between the sounds of our spoken words and the letters that are used to write them down. In our school, we achieve this by using the Monster Phonics scheme.
Our Monster Phonics journey starts in Nursery and EYFS and continues through to Key Stage 1. Monster Phonics improves progress for all learners using colour coding to make Phonics more memorable. Each sound our children learn is represented by a colour and a monster; each of these monsters have their own story and personality. This brings phonics to life and makes Monster Phonics highly engaging.
We have chosen Monster Phonics as our systematic synthetic phonics programme for the following reasons:

You can find out more information about the scheme using the website below:
DfE Validated Scheme And Ofsted-Ready (monsterphonics.com)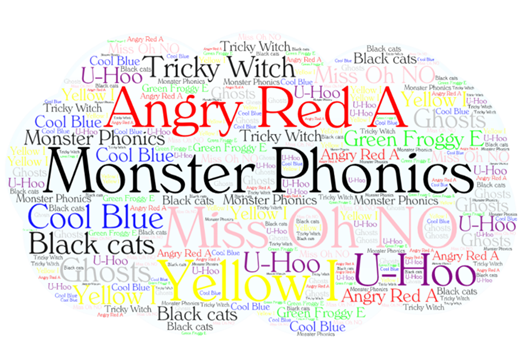 IMPLEMENTATION
Phonics lessons involve teaching children to:
link a sound (phoneme) to each written letter shape (grapheme)
know the sounds that two letters together (digraphs) make, such as /sh/ or /oo/
blend these sounds (phonemes) together from left to right to read words "c-a-t … cat"
segment the sounds (phonemes) in a word and then write each corresponding letter shape (grapheme) to spell words "cat … c-a-t"
Each phonics lesson will include:
1. Introductory PowerPoint
Each lesson is introduced using an engaging PowerPoint. The monsters bring phonics to life and colour-coding makes it easy to teach each grapheme. As well as a resource for teaching reading and spelling, the PowerPoints also introduce National Curriculum spelling rules such as adding suffixes.
2. The Hook - Video, Song or Story
Every lesson has either an animation or a story. Each animation has a song and is set within the monsters' world. The songs and videos use all the National Curriculum key words and scientifically proven words that children need to learn. This accelerates learning to spell the most relevant words for each grapheme.
Songs are also downloadable separately for revision once the lesson has finished. By learning the song, children will know the most important words for each grapheme.
3. Main Activity
Each lesson provides focused multi-sensory activities. Examples example activities are word searches, crosswords, games and sentence writing opportunities.
You can find more information about how phonics is taught using the Monster Phonics Information parent guide booklet at the bottom of this page.
Assessment
During the Summer term of Year 1, children will complete a Phonics Screening Check. Teachers in Year 1 support children with the check and ensure lots of support and practice is provided for the children prior to this.
In Year 2, children are given targeted phonics intervention if there are gaps in their phonics knowledge or if they did not pass the Phonics Screening Check in Year 1. These children will then re-sit the Screening Check during Year 2.
IMPACT
Working Walls