EYFS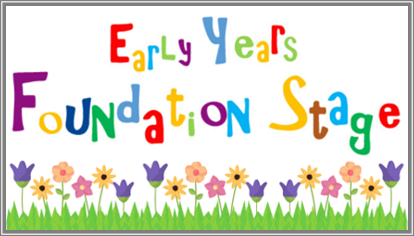 The early years of a child's life are an important stage where the foundations for future development are established. In the Foundation Stage, we foster the child's own interests, needs and stages of development and offer activities which extend, enrich and develop potential both inside and outside the classroom.
Purposefully planned, playful activities and first hand experiences are the key to learning, laying the foundations for the Early Years Foundation Stage Curriculum. There will be a mixture and an appropriate balance of adult-led and child-initiated activities, depending on the children's age and stage of development.
The Framework is based on four guiding principles which help to shape the Early Years Foundation Stage Policy.
A Unique Child
Positive Relationships
Enabling Environments
Learning and Development
The Early Years curriculum emphasises:
The 3 PRIME AREAS:
Personal, Social and Emotional Development (PSED)
This area has three smaller sections. These are Self-Regulation, Managing Self and Building Relationships. This area focuses on children learning how to work, play, co-operatively with others and how they learn to understand, manage and regulate their own emotions in order to function as effective learners and citizens.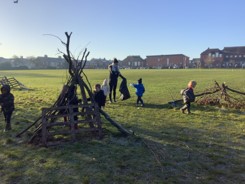 Communication and Language (C and L)
This area has two smaller sections. These cover Listening, Attention and Understanding and Speaking. These outcomes cover important aspects of language development and provide the foundations for literacy. Early Years at Sutton Road places a strong emphasis on children's developing competence in Communication and Language with a focus on ensuring this area of embeded in Quality First Teaching across the EYFS. There are frequent planned opportunities for the children to engage in purposeful talk supported by adults, who support with using, understanding and developing vocabulary.
During Literacy sessions, there is always a strong emphasis in lessons planned in promoting communication and language by encouraging children to share their ideas and opinions and by saying out loud what they want to write prior to writing.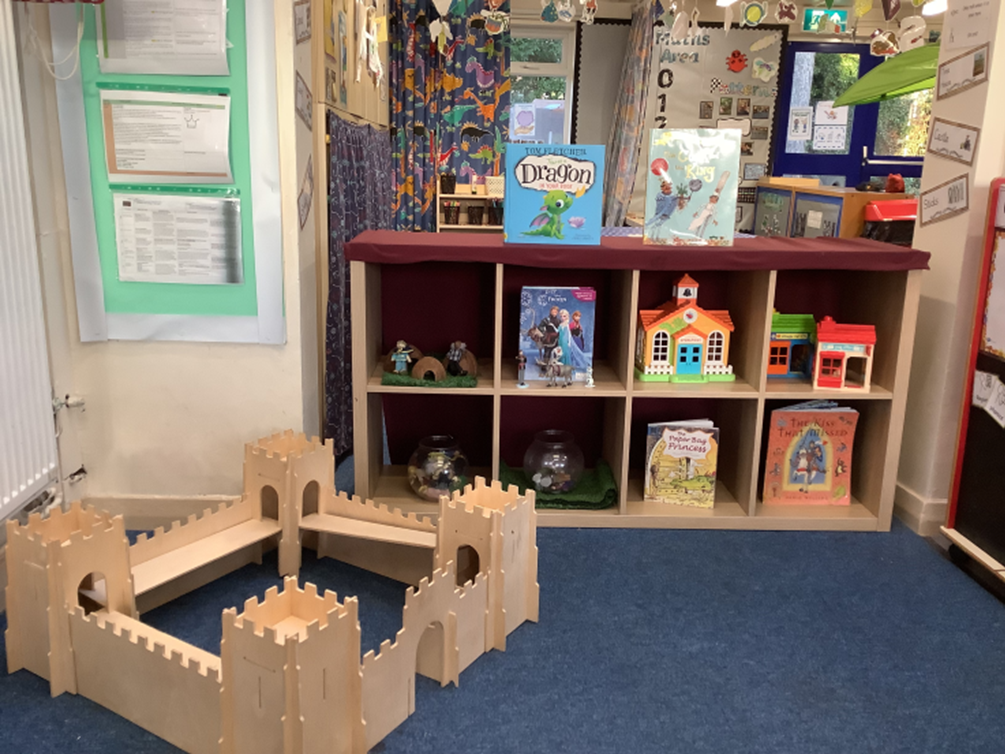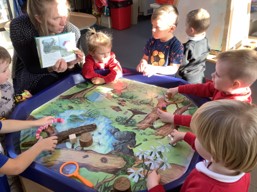 Physical Development (PD)
This area covers both fine and gross motor skill development. In order to achieve this as well as weekly PE sessions, children are encouraged to use the outdoor environment as much as possible and Forest school sessions are planned to support this. Weekly child-initiated and adult-led activities are planned to develop and support fine and gross motor development. We work hard in EYFS to develop children's skills for writing and use of tools effectively. We also do lots of work around healthy eating and looking after ourselves.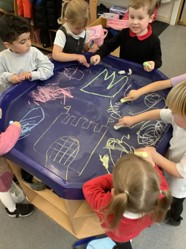 The SPECIFIC AREAS:
Maths
Maths is split into Number and Numerical Patterns learning. Maths is taught on a daily basis at Sutton Road in both whole class session and during small group activities. Maths is also intrinsic to daily continuous provision and enhanced through opportunities to explore numerical patterns, relationships between numbers and rhyme that embeds numerical order and place value.
Literacy
Literacy learning is split into Comprehension, Word Reading and Writing. Literacy is taught on a daily basis at Sutton Road during Phonics sessions and in specific Reading sessions. Children have regular opportunity to explore and understand a range of different purposes for writing and are challenged to create their own stories and adventures through both written, drama and spoken activities. Children are read with individually on a regular basis to enable them to learn and practise strategies taught. Phonics plays a big part in this area and the ability to blend for reading and segment for spelling are skills that are taught daily in the Foundation Stage at Sutton Road Primary School and Nursery.
Phonics – Phonics is taught daily in EYFS using the Monster Phonics scheme systematically to ensure that children make good progress and secure good early reading and writing skills during their time in the Foundation Stage.

Understanding the World
This covers the subjects Geography, Science, DT, History, RE and Computing. This is a major area of learning and enquiry focusing on children's developing knowledge and understanding of their environment, other people and features of the natural and man-made world.
Understanding the World is split into:
* Past and Present
* People, Culture and Communities
* The Natural World
Weekly Forest School activities provide an opportunity for children to explore, understand and care for their local environment and understand how it differs from the wider world. Opportunity within continuous and enhanced provision is provided for children to investigate and understand natural objects and develop scientific curiosity and explanation.
Key vocabulary and skills are taught during teacher led sessions and provide children with the strategies to develop their own natural curiosity.
Our Talking Points Curriculum linked to PSHE also supports the children in understanding cultural and community differences and supports the children in EYFS in developing respect and understanding of the range of people who live in the world around them.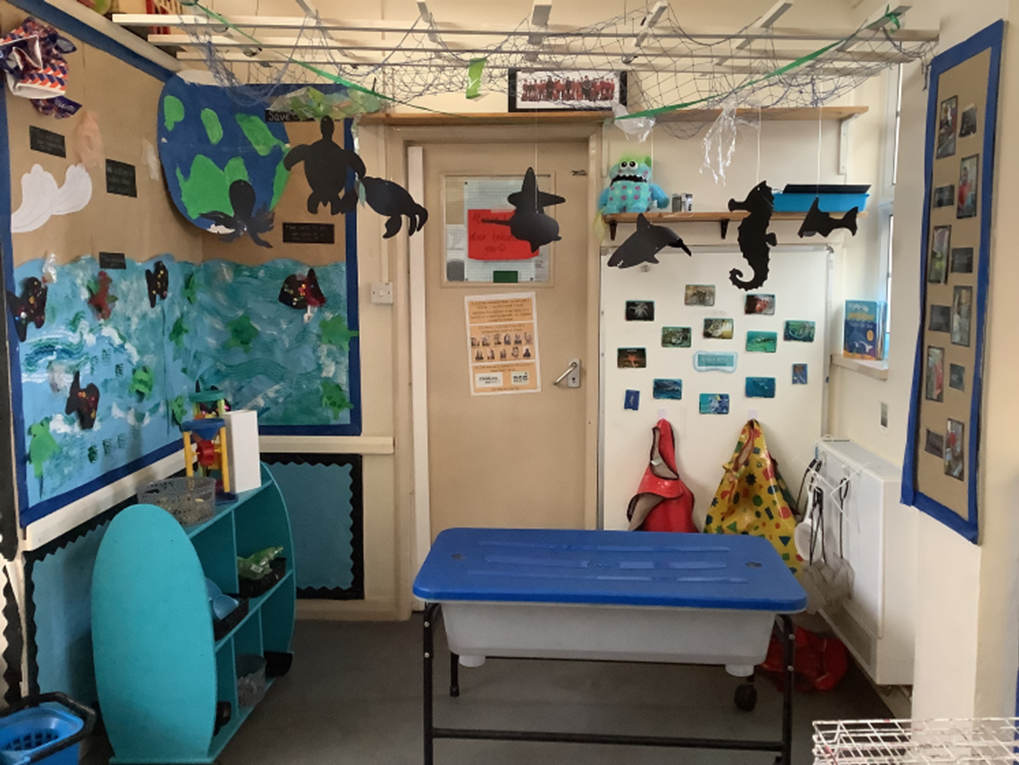 Expressive Arts and Design
This covers art, music, and drama. To ensure a broad range of experiences small group sessions and continuous and enhanced provision activities are planned to teach and provide children with skills and opportunity to express themselves creatively in a variety of different ways. These sessions and opportunities enable the children to develop key knowledge and skills when creating with materials and to develop their ability to expressive themselves and to be imaginative.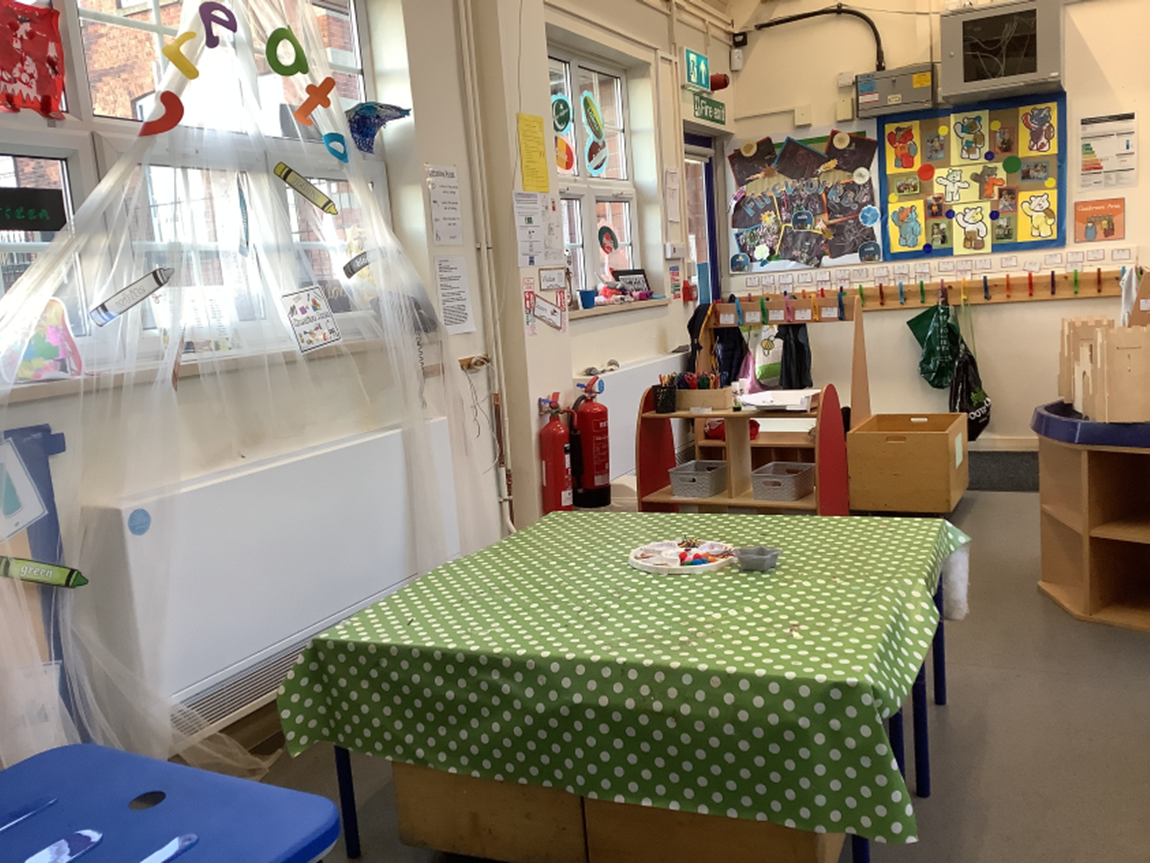 Forest Schools and Outdoor Learning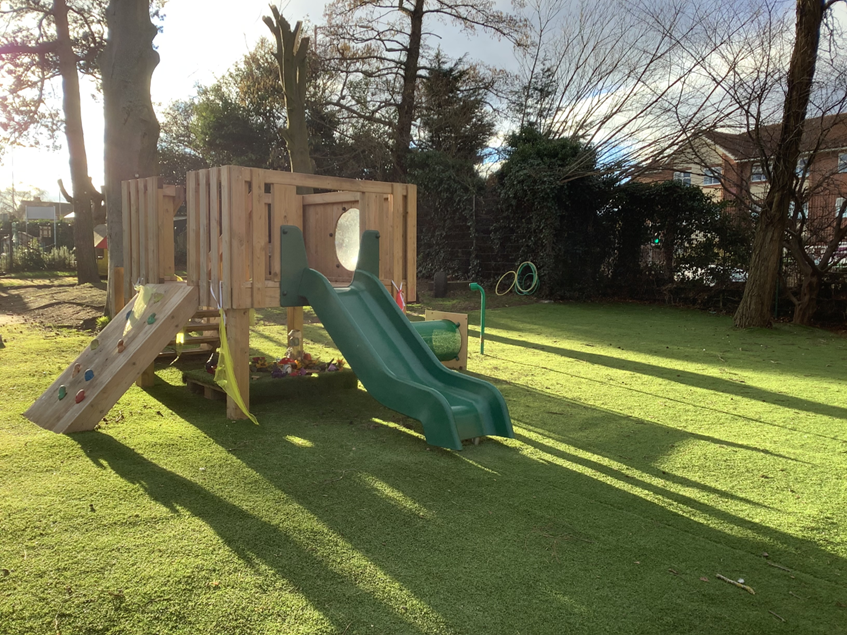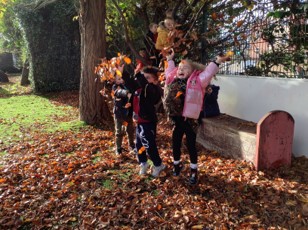 Daily access to the outdoors when in an Early Years setting is a statutory requirement for all children. But it is not just essential for children in the Early Years it is essential for ALL children and adults. Outdoor learning/play is a critical component of good provision and must be encouraged. It is essential for the healthy development of all young children.
Learning outside offers opportunities to build on and extend, skills taught and acquired inside. It also offers the chance to take on new challenges and risks and to investigate in a different way. The physical freedom of learning outside through climbing, exploring, running, jumping and balancing supports development of the young child's body towards the finer movements that will be required for such skills as writing.
Experiencing the weather, searching for insects, climbing a tree or working on a large scale is learning that can only happen outside.
What does Forest School look like at Sutton Road?
We are very lucky at Sutton Road Primary School and Nursery to have our own on-site area, which we are able to utilise for our Forest School.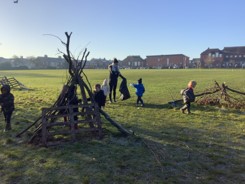 The Forest School area is located within the school grounds, just a 2minute walk away from the EYFS building, but far enough for the children to feel like they are leaving their familiar school grounds.
Forest School sessions last up to 2 hours dependent on the weather and temperature during that session.
Forest School sessions always begin with safety, recall of previously taught rules and boundary awareness games. We also focus heavily during our sessions on developing an awareness, appreciation of and respect for the natural environment around us. We ensure that children fully understand the importance of showing care and concern for our world and its inhabitants.
The children will be taking part in a wide range of activities such as, exploring woodland wildlife and plants, creating sculptures with mud, twigs, leaves (i.e. Elf houses, Mud faces, leaf crowns), den building, learning skills such as knot tying and safe use of tools such as peelers, loppers and bow saws to make artefacts such as 'magic wands' and 'tree cookie' name badges, as well as cooking over a fire. These skills are very carefully introduced over time with a high level of adult support and qualified Forest School leader.
The sessions also allow lots of opportunities for the children to reflect upon their experiences, discussing what they have achieved and planning what they would like to do next. Children are encouraged to solve problems for themselves and work with their peers as part of a team. Activities are designed to increase children's self-esteem and self awareness.