Daily Challenge - Puffin Big Dream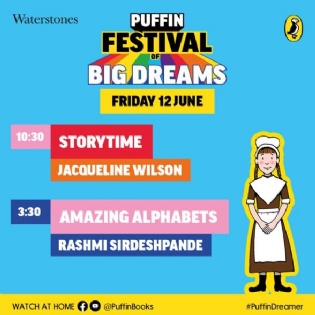 More Puffin Big Dream Events
We have another challenge today from Penguin and their Dream Big Festival for families to celebrate the power of imagination and Puffin's 80th birthday. Friday's theme is Dream Bold. The festival will culminate in a live weekend extravaganza at 11am on 13 and 14 June. Watch here on either Puffin books Facebook or YouTube.
At 10.30am it's Storytime with Jacqueline Wilson.
Settle down for a superb storytime with Jacqueline Wilson as she reads the winning story from the public vote!
Then at 3.30pm it's on to Amazing Alphabets.
Grab your festival kit and be inspired to dream bold and write your own A-Z of Amazing poem, as Rashmi Sirdeshpande explores Amazing Alphabets from The Puffin Book of Big Dreams. Rashmi is the author of Never Show A T-Rex A Book!
Watch all the excitement on our Puffin books YouTube channel (https://bit.ly/FestivalofBigDreamsYT ) or join the premiere here on Facebook ( https://www.facebook.com/PuffinBooks).