Daily Challenge - VE Day Activities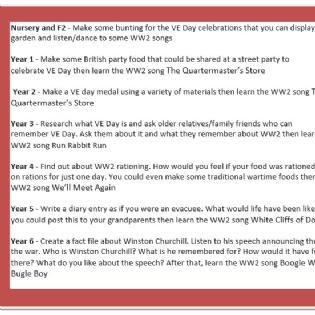 VE Day Activities & Mansfield DC Virtual VE Anniversary Party
Next Friday (08/05/20) is VE day.
We have some activities coming up to celebrate this day in next week's Home Learning tasks. But for our Daily Challenge today we wanted to give you a sneak peek of those challenges because Dan Snow has set a VE Day Challenge to find out how YOU would tell the story of VE Day today to mark this special 75th anniversary: https://ve-vjday75.gov.uk/dan-snows-ve-day-challenge/
You may want to enter his challenge using your Home Learning Task - we would love to see what you get up to with these!
Also, Mansfield District Council are hosting a virtual VE anniversary party. On Friday 8 May tune in to their Facebook page as they host a range of activities that the whole family can take part in. Featuring everything from Army style workout to 1940s dance and hairstyle tutorials, there will be something for everyone: