Daily Challenge -Mental Health Thank you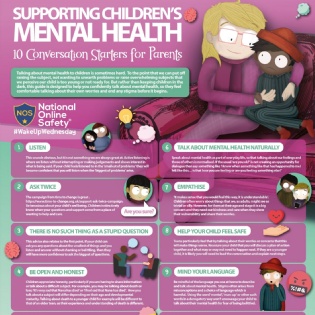 Mental Health Week - Design a Poster and Conversation Starters
Today's challenge and resources are both linked to Mental Health Awareness Week, which runs throughout this week.
Our challenge is to design and colour in a poster to say thank you to Mental Health Workers or to people in our families and community who show us kindness. You could use one of these posters for inspiration or design your own: https://bit.ly/2WNkvEP
For our resource today, National Online Safety (NOS) have come up with some ideas for supporting children's mental health, as talking about mental health to children is sometimes hard. See NOS's document below on conversation starters for parents to help children feel comfortable talking about their own worries.